DPC Dash Ltd. has been successfully listed on the Mainboard of HKSE on 28 March 2023. AVISTA Group is honored to be engaged in providing valuation services in relation to preferred common stock, equity incentives, stock appreciation rights, goodwill impairment testing and expected credit loss of financial assets for financial reporting purposes, and providing valuation services related to the total equity of Domino's subsidiaries for tax purposes.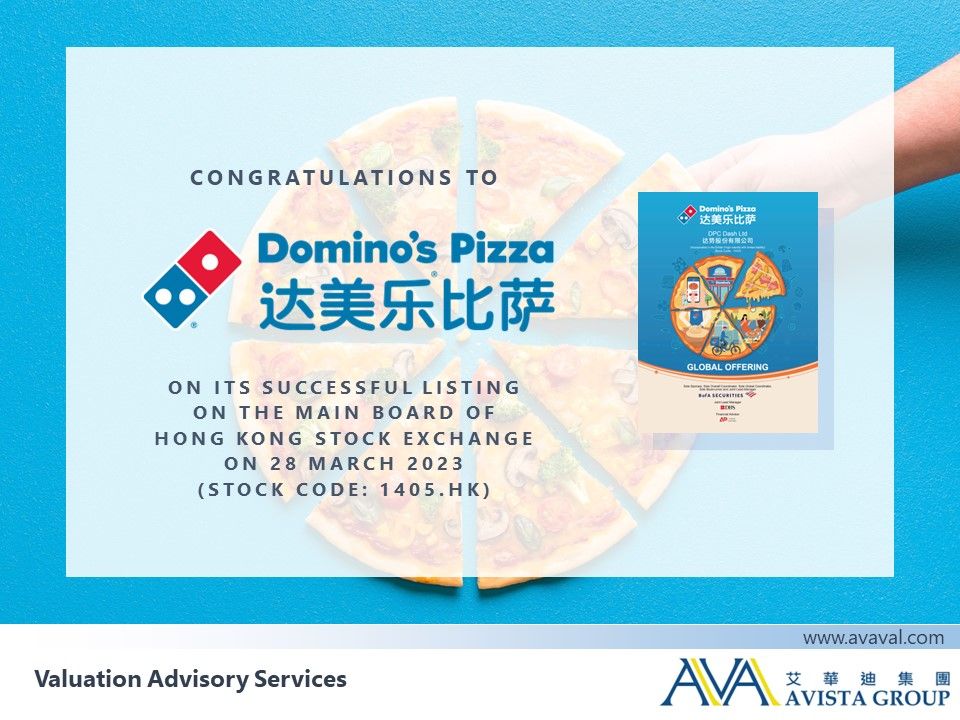 DPC Dash is the exclusive master franchisee of Domino's Pizza in mainland China, Hong Kong and Macau. Domino's Pizza, Inc., is the world's largest pizza company in terms of 2022 global retail sales.
As of the Latest Practicable Date, they operated 604 stores across 17 cities in mainland China.
DPC Dash has created a unique business model by localizing its key features for China's market. By combining the globally recognized Domino's playbook with their knowledge of China, they have developed a unique business model that is purpose-built for serving Chinese consumers delicious, value for money pizza through online channels, with an emphasis on delivery, enhanced by technology. According to the Frost & Sullivan Report, DPC Dash is the only pizza company in China to have a 30-minute delivery promise serving customers across all sales channels, providing higher quality food and provide better customer experience, as one of the competitive edges to set them apart from competitors.
Leveraging a unique and focused business model, DPC Dash has experienced rapid growth and improving profitability, with revenue increasing by 45.9% from RMB1,104.1 million in 2020 to RMB1,611.3 million in 2021 and increasing by 25.4% % to RMB2,020.8 million in 2022. Meanwhile, the store numbers in their network also increased from 268 in 2020 to 588 stores in 2022, with an increase of 119.4%.
Congratulations again to DPC Dash Ltd. (1405.HK) on its successful listing. The issue price is HKD 46 per share, and the amount of funds raised is HKD 589 million.